Arzum Coffee Maker OK0012BKCHR
Roll over image to zoom in
Click to expand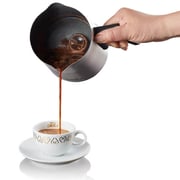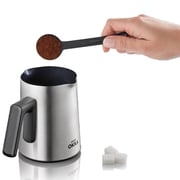 Key Information
Type:

Coffee Maker

Color:

Chrome

More power will help you prepare beverage faster

Power Consumption:

700 Watts
Details
Arzum Coffee Maker OK0012BKCHR
5 CUPS OF COFFEE
Arzum OKKA Rich Spin M brews your Turkish coffee tastefully, with a generous foam and ideal consistency. It can serve 5 cups of coffee at once. When using Milk Coffee Mode, it can serve 4 cups of coffee at once.

SUGGESTION FOR EASY AND PRACTICAL CLEANING
You can prepare milk beverages such as milk coffee, hot chocolate and salep with your machine. Rinse the coffee pot after preparing such beverages. Rinsed coffee pot will be cooled down a bit. After that, remove the mixer in the pot and clean the residue inside of the pot with a soft dishcloth or scouring sponge without using any chemicals such as detergents. Attach You can wash removed mixer equipment under tap water. Put on the cleaned equipment to its place and prepare for ready

CLEANING OF MIXER EQUIPMENT
You can wash the mixer equipment of the coffee pot under tap water during cleaning. After cleaning, make sure the mixer is located to its slot. It may cause splashes when not located correctly.

TURKEY'S FIRST MILK TURKISH COFFEE MACHINE WITH A MIXER IN ITS POT
OKKA Rich Spin M "With it's mixer in the coffee pot" brews your classic or nilk Turkish coffee instead of you and serves the perfect taste.

CUSTOMIZE YOUR TURKISH COFFEE EXPERIENCE WITH 4 DIFFERENT MODES
OKKA Rich Spin M serves your desired coffee as you wish with Classic, Strong, Slow Brew and Milk Coffee modes.

TEMPERATURE SETTING ACCORDING TO YOUR TASTE
You can set the brewing temperature as you desire. The allowable temperature rise is max. 1°C and decrease is max. 3°C.

BE YOUR KITCHEN'S BARISTA
Thanks to the advantages of preparing milk drinks, OKKA Rich Spin M can prepare hot beverages like hot chocolate and salep. you can prepare as many different beverages by using different ingredients and cocktail syrups.

EASY CLEANING WITH SPECIALLY DESIGNED COFFEE POT
It enables easy and hygienic cleaning with deep drawn monoblock ptfe coated and stainless steel special coffee pot with mixer.

THE SAME TURKISH COFFEE EXPERIENCE EVERYWHERE WITH AUTO BREWING ALTITUDE DETECTION SYSTEM
Arzum OKKA Rich Spin M has a smart auto brewing altitude detection system enabling you to make Turkish coffee with the same flavor anywhere in the world, by determining the ideal brewing temperature in the place where it is present. The brewing point of the water depends on the altitude difference based on the sea level. Therefore, you can manually set the brewing point of the appliance when the altitude difference based on used of your appliance

AUDIO AND LIGHT
Audio and light warning system that notifies you about the brewing process.