Enjoy FREE DELIVERY on all orders above BHD10
Barbie Graphic Novel 1 Book 2016
Key Information
Category Group:

Novels & Comics

Book Category:

Comics Novels

Type:

Novels Comics

Author:

Sarah Kuhn

Publisher:

Papercutz

Language:

English

Cover Type:

Paperback

Genre:

Novels Comics

Color:

Multicolour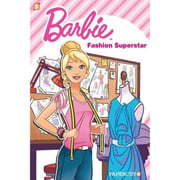 Barbie is facing the same problems every young person is facing today ― figuring out how to choose a career, in an economic environment that is becoming increasingly difficult for anyone to find a job.
But Barbie is nothing, if not optimistic and determined.
Her interest in clothes leads her to seek employment in the highly competitive world of fashion.
But as what? A model? A designer? Or something she never even dreamed of?
As Barbie pursues her dream, she meets a diverse bunch of all-new friends that can help her… and some that may actually try to end her fashion career before it even starts!
Main
Brand
Misc-Acc
Color
Multicolour
Weight
Weight
0.2 KILOGRAM
General
Language
English
Category Group
Novels & Comics
Author
Sarah Kuhn
Publication Year
2016
Book Category
Comics Novels
Publisher
Papercutz
Genre
Novels Comics
Type
Novels Comics
Features
Additional Features
All pages will be present and undamaged.
Features
Wrapped carefully to prevent damage or curling of book edges.
Physical
Binding Type
Paperback
Dimension
22.4 x 0.8 x 14.7 cm
Cover Type
Paperback
Number of pages
64