Bosch 0603672800 Universal Distance 50 Laser Range Finder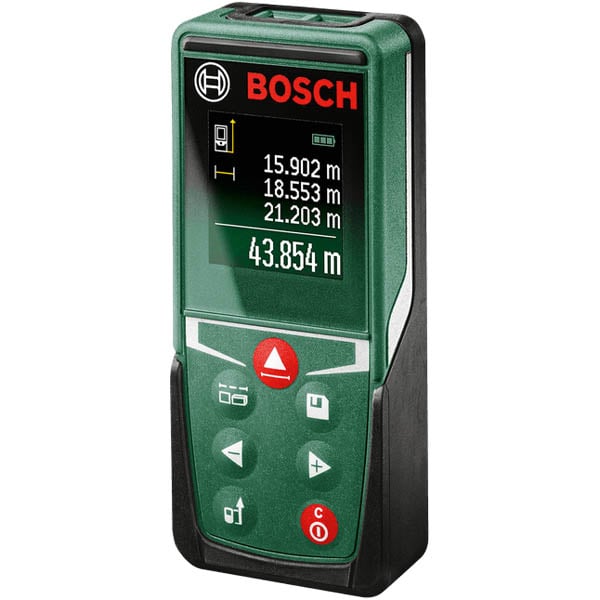 Roll over image to zoom in
Click to expand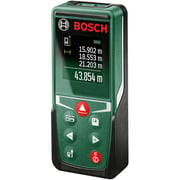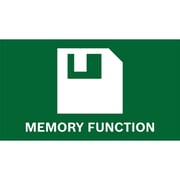 Bosch
Bosch 0603672800 Universal Distance 50 Laser Range Finder
Key Information
Type:

Measuring Laser

Color:

Green/Black
Details
Precise measuring of long distances – the UniversalDistance 50 laser measure is perfect for small and large projects up to 50 m, when moving house or for renovation. Determine length, area, and volume in a flash. Get room dimensions for furniture or determine how many litres of paint, metres of wallpaper, or square metres of flooring are needed for renovation. The laser measure can add or subtract values, delivering final results in one go. Select continuous measuring mode to measure constantly or to scan for the shortest or longest distance thanks to its practical min/max function. Up to 10 values can be stored internally. Its high-quality colour display offers optimum legibility when measuring, making work convenient. Front and rear measuring – this laser measure can produce results including or excluding its own length, making it ideal for use in tight spaces.
Access saved measurement values with ease
While displaying the last three measurement values on screen, save an additional 10 results manually then retrieve them later.

Selection of reference edge
Select the front or rear edge of the tool as the starting point when measuring.

Laser precision for determining distances quickly
Measure distances with precision – get accurate results when determining heights and lengths thanks to Bosch's laser technology.