Huawei PNX-B19 Watch GT4 46mm Smart Watch Phoenix Brown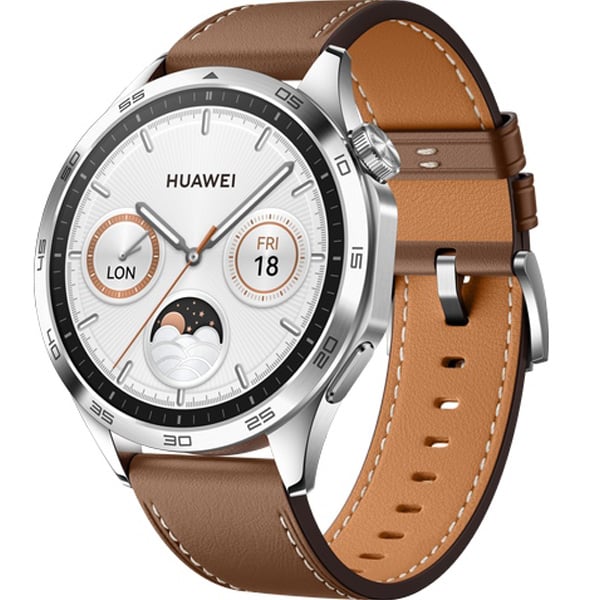 Roll over image to zoom in
Click to expand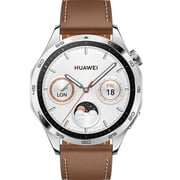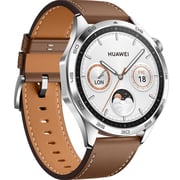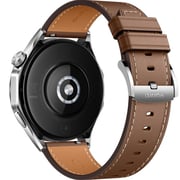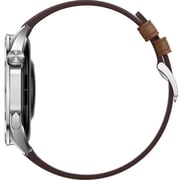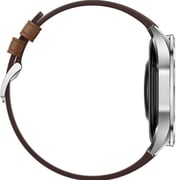 + BHD 1.000 Shipping
Delivery 07 Dec - 08 Dec
Secure Transaction
Key Information
Color:

Brown

They are bluetooth capable watches used to answer phone calls , receive alerts, read email and text messages, get a weather report, listen to music, dictate email or text messages or ask a digital assistant a question

Type:

Smartwatch

Display Type:

AMOLED

The total number of pixels on the screen, more pixels results in a sharper display

Resolution:

466 x 466

Bluetooth Version:

Bluetooth 5.2

Battery life:

7-day battery life for maximum usage, 4-day battery life for regular usage, 2-day battery life with Always On Display enabled
Details
Huawei PNX-B19 Watch GT4 46mm Smart Watch Phoenix Brown
Unique octagonal design.
Rounded to perfection, but living on the edge – that's one watch face you can't do without!

Opulence in your orbit.
A stunning ring bezel shimmers and shines away, night and day.

Slimmed Down, Spaced Out
With its airy-light form and 13% higher screen-to-body ratio, bordered by a thin bezel, this watch gives you the fit you crave and a view to savour.

Dazzling Watch Faces to Choose from
With 25,000+ exquisite watch faces to browse, including Blooming watch face, which flowers as your daily activity data grows, and Always On Display watch faces, an idle moment is all you need to experience something new.

Custom Watch Faces
Create watch faces of your own, with tailored functions, styles, and colour schemes, to showcase your creative side — or custom widgets, to switch seamlessly between apps.

Complete All 3 Rings
Set daily goals for Activity Rings 2.0, with Move, Exercise, and Stand measurements, to get a move on your health – minute-by-minute. When you achieve the three-ring goal, you will receive a medal reward.

Can-Do Calorie Management
The new Stay Fit app backed by HUAWEI TruSeen 5.5+ tech helps you keep track of how many calories you're consuming at a glance, with high-level metrics like real-time calorie intake, active calories, resting calories, and calorie deficit.

100+ Workout Modes
This watch is sure to track the activity you love – with new modes like football, basketball, and padel, in addition to the myriad of walking, running, cycling, and swimming workouts. Hit the court or hunker down, with a vast array of real time data, to make the most out of every movement. You can also enjoy the convenience of voice guidance when running.

Workout Heart Rate Monitoring
Don't miss a beat, with the new and improved HUAWEI TruSeen 5.5+ heart rate, and get timely voice or vibration reminders9 whenever your heart rate strays from its target zone. The heart rate monitor continues to work well, even in cold-weather environments.

Enhanced Route Tracking
A smart satellite antenna array boosts the accuracy of HUAWEI WATCH GT 4 46 mm's GNSS signals by 30%,10 to keep you on track in avenues, parks or residential units. And with a smart fusion positioning algorithm, the watch gets increasingly accurate the more times you run.

Vital Sign Tracker
The watch's HUAWEI TruSeen 5.5+ system tracks heart rate, SpO2, sleep, and stress with pinpoint precision, keeping you in the know all the time.

Pulse Wave Arrhythmia Analysis
Stay on top of your heart health, with timely alerts on potential A-⁠fib and premature beat risks, powered by the PPG sensor.

Sleep Tight Every Night
Hit the hay with peace of mind, thanks to the HUAWEI TruSleep 3.0 monitoring system, which tracks your slumber, and detects abnormal breathing during sleep.

Special Attention to Women's Health
Get estimated period, ovulation, and fertile times at just a glance, which are based on high-level physiological data and a deep learning algorithm.

Heart Rate Monitoring
HUAWEI TruSeen 5.5+ technology enhances the accuracy of heart rate readings during strenuous workouts, by harnessing eight photoelectric sensors, two groups of light sources, a better AI algorithm, and curved glass lens

SpO2 Tracking
TruSeen's SpO2 measurements show that when it comes to this watch, caring runs in the blood!

Stress Management
An ever-ready stress monitor is on hand to track and manage any daily trials and tribulations, with calming breath exercises to help ease your mind.

Listen Without Limits
HUAWEI WATCH GT 4 supports independent music playback. Set playlists in the phone app and match them to specific workouts – to get in your groove even when your phone isn't on hand!

Take Control of Your Life
Manage your schedule and track your to-dos from the watch's Calendar app, to stay productive, proactive, and professional.

Communicate Conveniently As Can Be
View SMS messages on your watch and choose to reply with a preset quick text message or emoji. Experience seamless communication with just a flick of your wrist.

Power Up in a Pinch
HUAWEI WATCH GT 4 46 mm lasts a staggering 14 days on a full charge, and HUAWEI WATCH GT 4 41 mm lasts 7 days.

Broadly Compatible
HUAWEI WATCH GT 4 is compatible with both iOS and Android phones, for greater ease of use.