Enjoy FREE DELIVERY on all orders above BHD10
Key Information
Category Group:

Fiction

Book Category:

Children Books

Type:

Fiction

Author:

Jack Patton

Publisher:

Scholastic Us

Language:

English

Cover Type:

Paperback

Genre:

Fiction

Color:

Multicolour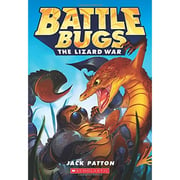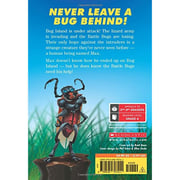 Never leave a bug behind-- collect all the Battle Bugs books! Never leave a bug behind! Bug Island is under attack!
The lizard army is invading and the Battle Bugs are losing.
Their only hope against the intruders is a strange creature they've never seen before a human being named Max.
Max doesn't know how he ended up on Bug Island–but he does know the Battle Bugs need his help!
Main
Brand
Misc-Acc
Color
Multicolour
Weight
Weight
0.09 KILOGRAM
General
Language
English
Category Group
Fiction
Publication Year
2015
Author
Jack Patton
Publisher
Scholastic Us
Book Category
Children Books
Genre
Fiction
Type
Fiction
Features
Additional Features
All pages will be present and undamaged.
Features
Wrapped carefully to prevent damage or curling of book edges.
Physical
Binding Type
Paperback
Dimension
19.3 x 1 x 13.2 cm
Cover Type
Paperback
Number of pages
128
S100565596