Philips Wet & Dry Epilator BRE65200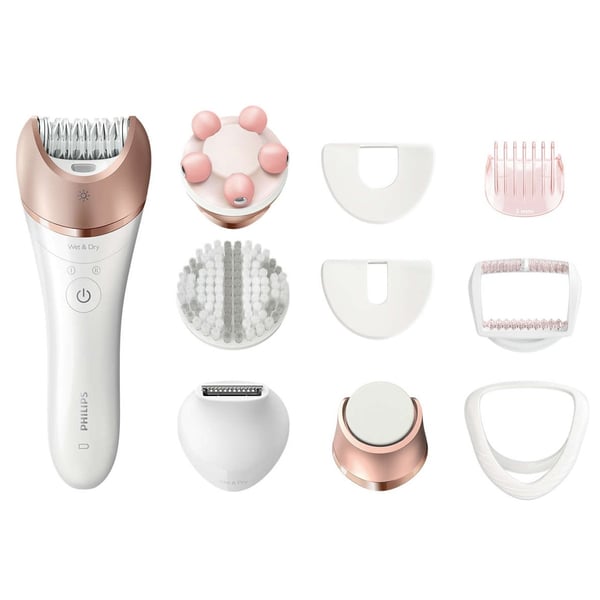 Roll over image to zoom in
Click to expand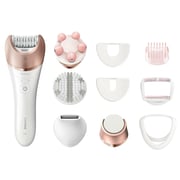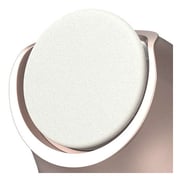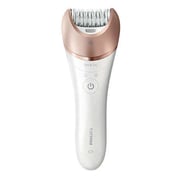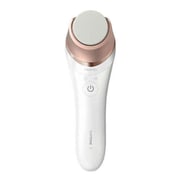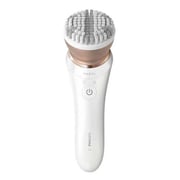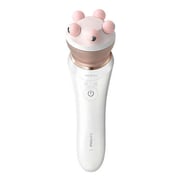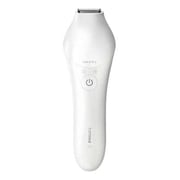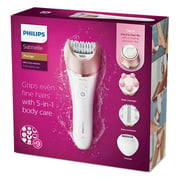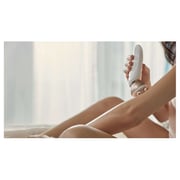 Philips
Philips Wet & Dry Epilator BRE65200
Key Information
Power Supply:

220-240 Volts

Type:

Epilator
Details
Philips Wet & Dry Epilator BRE65200
Epilator head made of special ceramic material for better grip
Our unique epilator head is made of a ceramic material with a rough surface that captures even fine hairs safely.
Always use a 90 degree angle for optimal performance
The Philips Satinelle always performs at its best when used at 90-degree angles.
First epilator with S-shaped handle
The ergonomic S-shaped handle allows easy application for optimal handling and more thorough hair removal all over the body with natural and precise movements.
Wet and dry in the bathtub or shower
For a gentle and comfortable use in the shower or in the bathtub with non-slip handle for optimal wet and dry hair removal.
Unique lighting ensures that you do not miss fine hairs
Unique lighting ensures that you do not miss fine hairs and achieve optimal results in epilation throughout the body.
Pedi, electric foot file with rotating disc
Our unique rotating disc gives you velvety feet from heel to toe. Use the extremely precise edge for precise and thorough corneal removal. The unique rotating disc can be used for large areas and provides soft skin.
Body massage head for relaxing and for a radiant skin
Our body massager offers you a relaxing treatment – enjoy radiant skin.
Body peeling brush removes dead skin cells
Our new body peeling brush removes dead skin cells. The 48,200 hypoallergenic, fine bristles gently but effectively remove dead skin cells and stimulate the renewal of the skin surface. This device is more effective than a manual exfoliant.
Including cutting head and bikini comb attachment
The scope of delivery includes a cutting head and a bikini comb attachment for comfortable trimming and styling of sensitive areas.
Attachment for face and sensitive body areas to remove unwanted hair
For a softer depilation of the different parts of the body are included a attachment for the easy removal of unwanted hair on the face as well as an attachment for sensitive body areas such as hair in the armpits and the bikini area.
Including massage attachment
The massage attachment relieves the feeling of touch.
The Skin Stretcher tightens the skin when epilating.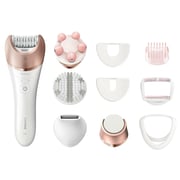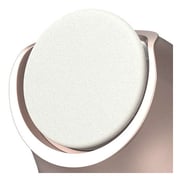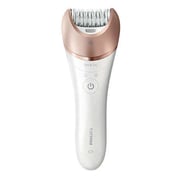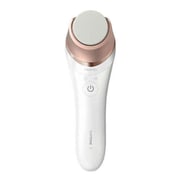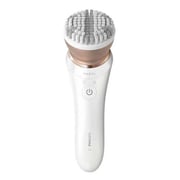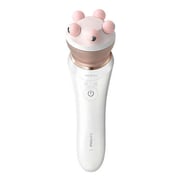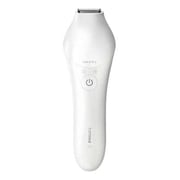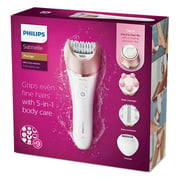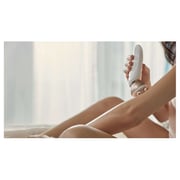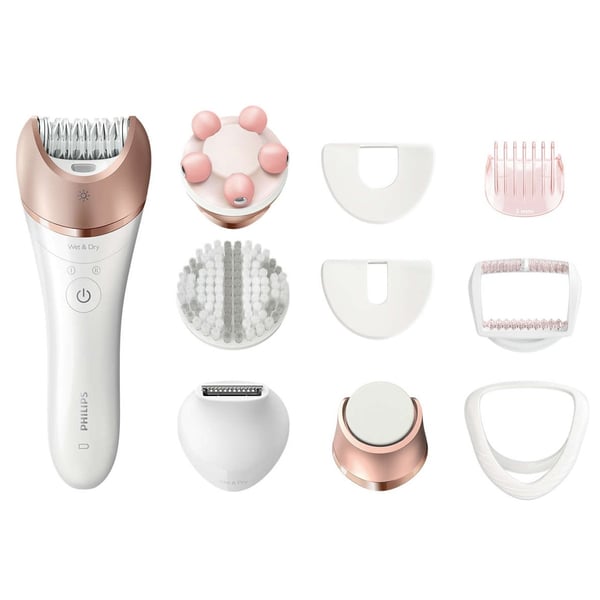 Product Overview
Overview