Enjoy FREE DELIVERY on all orders above BHD10
Unicorn & Yeti Friends Rock Book 1st Edition
Key Information
Category Group:

General Fiction

Book Category:

Children Books

Type:

Fiction

Author:

Heather Ayris Burnell

Publisher:

Scholastic US

Language:

English

Cover Type:

Paperback

Genre:

Fiction

Color:

Multicolour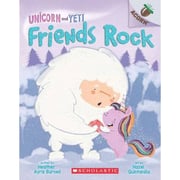 Yeti loves playing on the swing. Unicorn would like a turn. Unicorn loves eating peaches
Yeti would like to try one. Unicorn and Yeti find a sparkly rock.
They would both like to take it home. Can these magical friends discover how to share?
Main
Brand
Misc-Acc
Color
Multicolour
General
Author
Heather Ayris Burnell
Publication Year
2019
Book Category
Children Books
Publisher
Scholastic US
Genre
Fiction
Type
Fiction
Language
English
Category Group
General Fiction
Features
Features
Wrapped carefully to prevent damage or curling of book edges.
Additional Features
All pages will be present and undamaged.
Physical
Dimension
25.4 x 4.7 x 20.3 cm
Cover Type
Paperback
Number of pages
64
Binding Type
Paperback