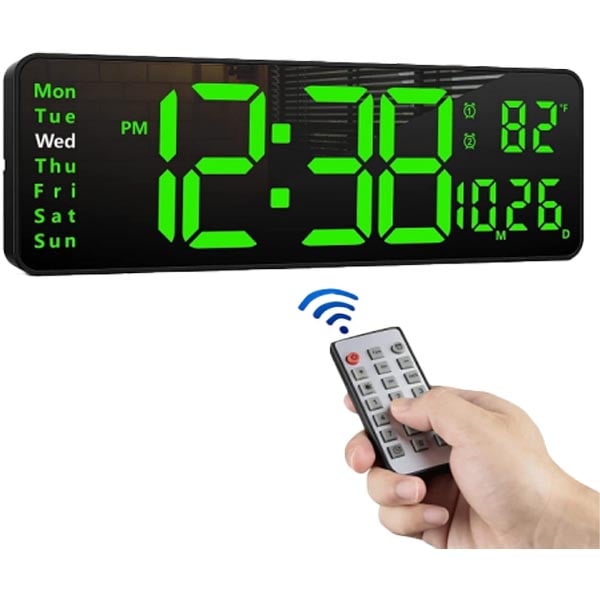 Roll over image to zoom in
Click to expand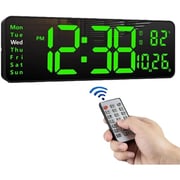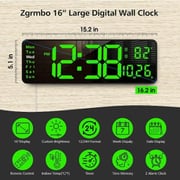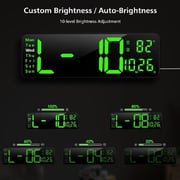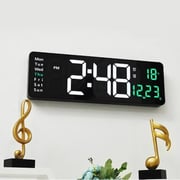 Budi
Budi DS-6626 Multicolour LED Wall Clock
Details
Large LED Display Digital Wall Clock –
Zgrmbo digital clock has a 16.2-inch large screen display, 4.25-inch contrast clear jumbo digits make it much easier to view and read even from a great distance and from all angles. A rich display wall-mounted digital clock with time, date, indoor temp, week, ideal for Gym/Shop/Warehouse/Garage/Office.

HANDY REMOTE CONTROL –
A Clock This Big Deserves its Own Controller! Adjust LED Brightness, Set Time, Set Alarm, or Set Timer. Note: If you can't find the remote control and USB cable, be sure to open the other end of the box to check.

Convenient in Every Detail –
Come with a universal DC 5V/2A Power Adapter, which saves more space than the "wall wart" style adapter and can even be used for mobile device. Come with an 11.5ft Long Power Cord, it is convenient for the clock to be wall-mounted in any required position. Hidden Coiled Cord Design, no need to worry about the power cord being too long.

Custom/Auto Brightness –
With a 10-level adjustable brightness display, you can easily set the screen to your preferred brightness by pressing the brightness and + / – button on the remote control. You can also press the brightness button on the remote control twice to turn on the auto-brightness mode, and the clock will automatically adjust to the most suitable state according to the surrounding brightness.

CONVENIENT STOPWATCH & TIMER –
Fulfill all your timing needs with one device. Set a timer for a recipe, beat your personal best on your next workout, or countdown the minutes on your next family game night.

OUTLET POWERED ONLY & MEMORY FUNCTION –
While it is a plug-in digital wall clock, the 1* CR2032 battery backup helps you save time and settings. You do not have to reset the settings when reconnecting after a power outage. The screen goes off during battery backup. ZGRMBO also promise you an 18-month warranty along with a 45-day return policy.