D-Link Eagle Pro AI Wireless AX3200 Wi-Fi 6 Dual Band Router
Roll over image to zoom in
Click to expand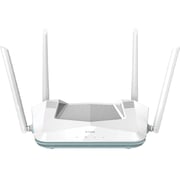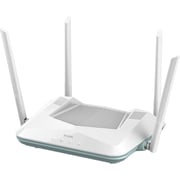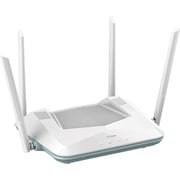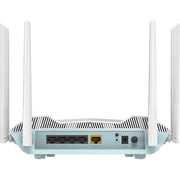 Key Information
Color:

White

It is the rate of radio signal to send and receive communication signal. Common frequencies are 2.4 Ghz and 5 Ghz.5GHz provides faster data rates at a shorter distance. 2.4GHz offers coverage for longer distances, but may perform at slower speeds

Frequency band:

Dual-Band (2.4 GHz, 5 GHz)

Type:

Router
Details
D-Link Eagle Pro AI Wireless AX3200 Wi-Fi 6 Dual Band Router
Better Compatibility & Smooth Connectivity
Most smart home solutions still use 802.11n (2.4G) to connect with Wi-Fi routers.
R32 served as the ideal solution with better signal and connection throughout your home to secure compatibility among diverse brand of smart home products.

Boosted Speed for Multi-device Households
In answer to growing demands of more devices at home, R32's 4X4 MU-MIMO technology and 8 streams could communicate with multiple users at the same time in high-density scenarios. With more than enough bandwidth for connections, get ready to enjoy a much reliable Wi-Fi experience without lag.

Broader Coverage & Reliable Wi-Fi
With more and more connected personal and IoT devices, R32's design meets their expectations by supporting multiple devices. Coupled with 4 high-power RF FEMs, R32 transmit farther with balanced network demand.

EAGLE PRO AI Technology

The cutting-edge AI technology identifies your Wi-Fi needs and fixes your Wi-Fi issues. With EAGLE PRO AI, you can easily handle a Mesh system, High Network Traffic, Wi-Fi Interference, and Websites Filter with just a single click.

Wi-Fi 6 — the Best Choice
Wi-Fi 6 technology supports more secure connections with higher speeds and less latency for more devices.

Keep Playtime Safe and Healthy
AI Parental Control lets you designate online hours for little ones and restrict website access to keep their learning experience a safe and healthy one.

Health Mode
Schedule Wi-Fi transmission hours to reduce possible effects of electromagnetic radiation
Schedule Wi-Fi access hours to maintain a balanced family lifestyle
Turn off Wi-Fi entirely to conserve energy

One App to Rule Them All
The EAGLE PRO AI gives you complete control over your Wi-Fi.
Established AI-powered application obtainable for both Android and iOS smart devices.

Works with Google
Assistant and Alexa
Easily integrates with Amazon Echo's Alexa or the Google Assistant for convenient hands-free voice control.

Collaborate With Mainstream Smart Devices
While large number of the smart device manufacturers still use 2.4GHz to connect with others, R32 meets the expectations of most of the smart home solutions with boosted Wi-Fi speed without wasting bandwidth.

Wider Coverage With Higher Efficiency Seamless Roaming
With the design of 4 RF FEMs, R32 further improves the router's Wi-Fi coverage to every corner of your home with greater transmission.

Multiple Users With Improved Network Capacity
4×4 MU-MIMO can serve more devices at the same time. Beamforming ensures efficient wireless communication.

Smart AI Technology
EAGLE PRO AI App for easy management on hand. AI based Mesh Optimizer easy to connect with another Eagle Pro AI devices.

Better User Experiences with high Security and Voice Control
WPA3 protocol brings better protections. Easy home Wi-Fi network with Voice Control by Alexa / Google Assistant.