Roll over image to zoom in
Click to expand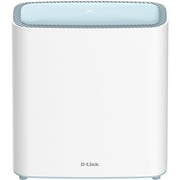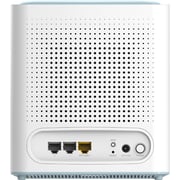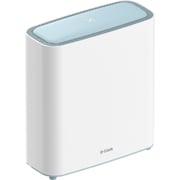 Dlink
Dlink M32 Eagle Pro AI AX3200 Mesh Router
Key Information
Color:

White

Input/Output Terminals:

Ethernet Lan,Ethernet Wan
Details
M32 meets the expectations of most smart home solutions with boosted Wi-Fi speed without wasting bandwidth.
Better Compatibility & Smooth Connectivity
Most smart home solutions still use 802.11n (2.4G) to connect with Wi-Fi routers. M32 served as the ideal solution with better signal and connection throughout your home to secure compatibility among diverse brand of smart home products.
Boosted Speed for Multi-device Households
In answer to growing demands of more devices at home, M32's 4X4 MU-MIMO technology and 8 streams could communicate with multiple users at the same time in high-density scenarios. With more than enough bandwidth for connections, get ready to enjoy a much reliable Wi-Fi experience without lag.
Broader Coverage & Reliable Wi-Fi
With more and more connected personal and IoT devices, M32's design meets their expectations by supporting multiple devices. Coupled with 4 high-power RF FEMs, M32 transmit farther with balanced network demand.
Eagle Pro AI Technology
The cutting-edge AI technology identifies your Wi-Fi needs and fixes your Wi-Fi issues. With EAGLE PRO AI, you can easily handle Mesh system, High Network Traffic, Wi-Fi Interference, and Websites Filter with just a single click.
Wi-Fi 6 — the Best Choice
Wi-Fi 6 technology supports more secure connections with higher speeds and less latency for more devices.
Power Savings on Mobile Device
Target Wake Time (TWT) technology schedules connected devices to be awake or asleep during designated time periods. This not only saves device battery life, but also reduces network congestion.
Keeping Your Network Safe
With the latest WPA3 support the Clean Network Initiative compliant M32 helps keep your network more secure and private.
Reliable Connections for Greater Coverage
Beamforming technology lets you embark on a new experience as it pinpoints device locations to focus signals for Reliable Connectivity and Promised Data Transmission across greater distances.