Roll over image to zoom in
Click to expand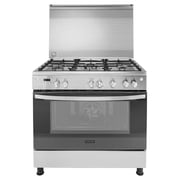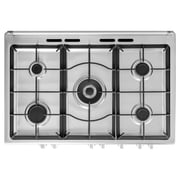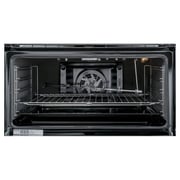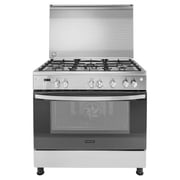 Frigidaire
Frigidaire 5 Gas Burners Cooker FNGE90JGRSO
Key Information
Burners uses gas, Hobs uses gas / electricity

No of Burners/Hobs:

5

Oven Capacity:

115 Litres

Works using gas energy

Energy input:

Gas

Color:

Stainless Steel

Built In / Free Standing:

Free Standing

Dimensions (H x W x D):

850 x 900 x 600 mm
Details
5 Triple Crown Burners
Now you can achieve excellent cooking results for better tasting food with this new line of cookers which has a new hob and burner system. The Triple Crown Burner develops the highest available power and distributes the heat to the base of the Saucepan in a uniform fashion.
Simple Shape And Extra Storage Capacity
Simple Shape And Extra Storage CapacityThe Frigidaire cooker is a free-standing, stainless steel finish, a grill, 5 burner hobs, a glass lid, a large oven capacity of 116.1 litres and an additional storage capacity. This cooker also has a timer which allows you to select when the Oven will start (delay start) and shut off (duration).
Easy To Clean With Catalytic Oven
This oven has been specifically designed to be without visible screws and other dirt traps. This Frigidaire cooker and oven also has very good illumination, thanks to the 25-Watt lamp. It also features a catalyitc oven, the Heat activated catalytic lining inside the oven oxidises grease and other food residue for quick and easy cleaning.
Oven Turnspit And Grill Controls
Oven Turnspit And Grill ControlsThe diagonal turnspit gives you room to grill two or three chickens at the same time. The turnspit support hook is clamped to the oven ceiling. You can also remove the turnspit easily to reduce the risk of burning your hand. Frigidaire cooker also adds a separate control which allows you to bake and grill at the same time.
Smart, Cast Iron Pan Support
The Smart feature allows you to stabilize smaller or awkawardly shaped items on the pan support like coffee pots or smaller saucepans, even woks without them sliding down. Cast Iron is known to be not only heat resistant and long lasting, Cast iron is also known for being non-stick, this means that cleanup will be a breeze.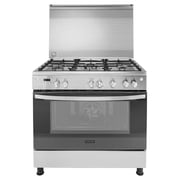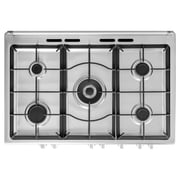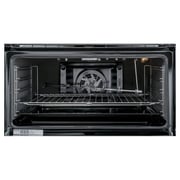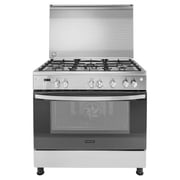 Product Overview
Overview