Audio

/

HiFuture RADGE True Wireless Earphone Black
Roll over image to zoom in
Click to expand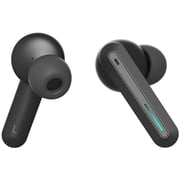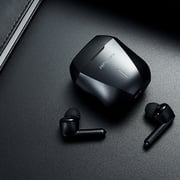 Hifuture
HiFuture RADGE True Wireless Earphone Black
Key Information
Built in Microphone:

Yes

Type:

Wireless Earbuds

You can connect your Bluetooth compatible devices, wirelessly and enjoy music in headphone

Bluetooth:

Bluetooth 5.0

Connectivity Type:

Wireless

Color:

Black
Details
Enjoy the best Audio Quality TWS Buds with HiFuture Radge.
Cold Blue Lighting Technology
We know gamers love to dwell in the dark. So to enhance your gaming experience the powerful and aesthetically pleasing HiFuture Radge comes with Cold Blue Lighting Technology that sets up the gaming mood while keeping you connected.
Switch ONN the Madness
Enjoy the best Audio Quality with HiFuture Radge with the liberty to Switch between gaming and music mode anytime you wish with just three taps.
Smart Touch
Game must never stop. The Swift and Slick HiFuture Radge come with the smart touch control sensors that help you quickly switch between mode, end and receive calls and do much more with interrupting your game.
Keep Your Device Running
No leaving without winning. The Powerful HiFuture Radge is by your side while you smash the enemies. Powered with long lasting battery life that last upto 5 hours on a single charge the HiFuture Radge are your best companion on the virtual battlefield.
Rain Dance Wish Done Right
Nothing stops the HiFuture Radge. Enhanced with IPX5 waterproof protection the HiFuture Radge can take up any weather condition without breaking down.
Super Low Latency
The HiFuture Radge are known for its superior quality audio and a 60ms super low latency in gaming mode, which makes the HiFuture Ragde the one best gaming earbuds.