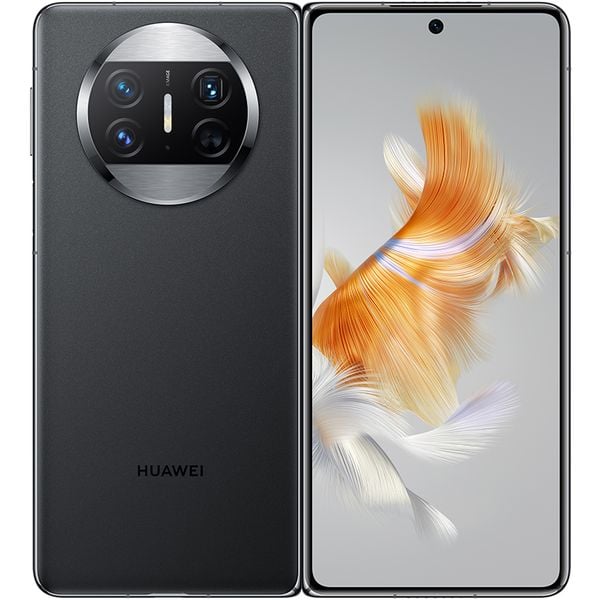 Roll over image to zoom in
Click to expand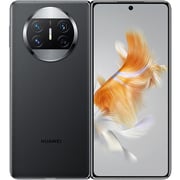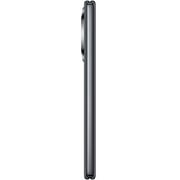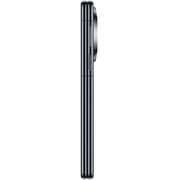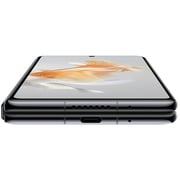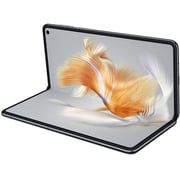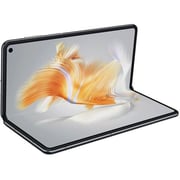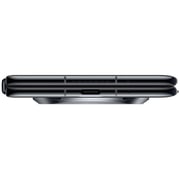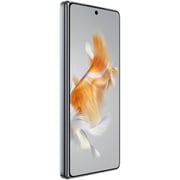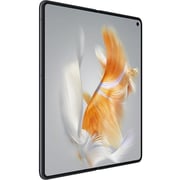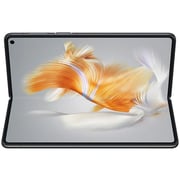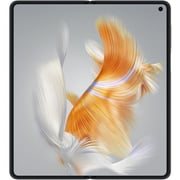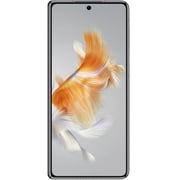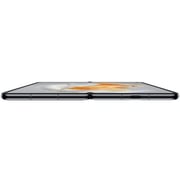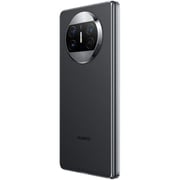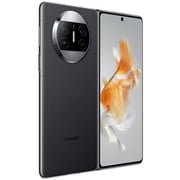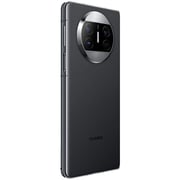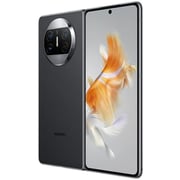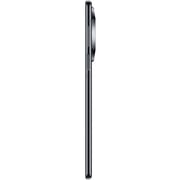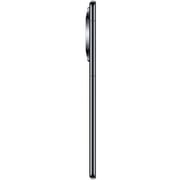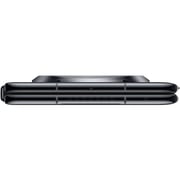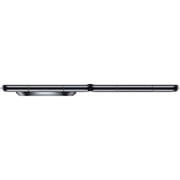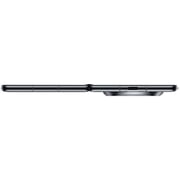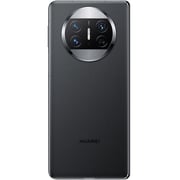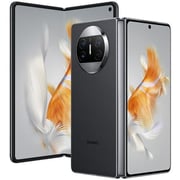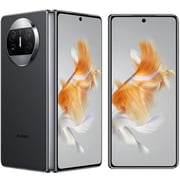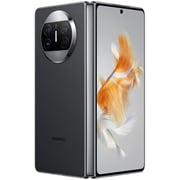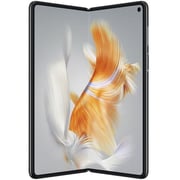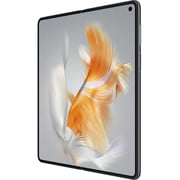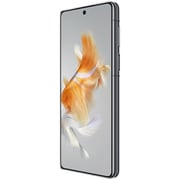 Huawei
Huawei Mate X3 512GB Arabic Black 4G Smartphone
Key Information
Color:

Black

Upto 64000 songs or 120000 photos

Internal Memory:

512 GB

Advanced games & running multiple applications

RAM:

12 GB

Actual number of megapixels. More megapixels means more clear picture it can take

Rear / Front Camera:

50 MP + 13 MP + 12 MP / 8 MP

Actual size in inches measured diagonally

Screen Size:

6.4 in

It is version of software platform on top of which other programs, can run on mobile devices

OS Version:

EMUI 13.1

Eight 'core elements' in the processor. They multitask to make the device run smoothly. Useful for high intensity gaming, HD video & photo editing

CPU:

Octa-Core

Milliampere (mAh) hour is a measure of the capacity of the battery. The higher the mAh rating, the more powerful the battery

Battery Capacity:

4800 mAh
Details
Huawei Mate X3 512GB Arabic Black 4G Smartphone
Gaze into the Future
The rear camera layout resembles the shape of a spacecraft porthole, which has been crafted by a custom diamond blade, a process that takes 29 steps and 12 hours, with an exquisite contrast between its satin and polished surfaces, giving the look and feel of a luxury timepiece.

Elegance that Enchants
The Anti-Fingerprint Feather-Sand Glass with a microcrystalline structure is set to amaze the eyes and soothe your skin with every touch. HUAWEI Mate X3 also comes with a Vegan leather version, featuring an ultra-thin layer of delicately-textured, skin-friendly material for timeless aesthetics.

A Body to Behold
Introducing the world's first quad-curve foldable smartphone — a future-proof design that ushers in a revolutionarily contoured body. Solid as the phone is, its four edges are softly rounded for handling comfort, bolstering an exquisite sensation that lingers with time.

Slimmed Down, Spruced Up
HUAWEI Mate X3 has set the standard for how a slim and light foldable smartphone should be, by taking full advantage of a new-gen multi-dimensional hinge to ensures compactness when folded and ultra-thin when unfolded, an ultra-slim Type-C component,, and ultra light and strong aluminium, as well as other materials, such as innovated carbon fibre, for reduced weight.

HUAWEI X-True
Two Screens to Savour
As the first foldable smartphone to garner two TÜV Rheinland certifications (Colour Accuracy & Precise Colour Projection)⁠, HUAWEI Mate X3 brings true-to-life details right in front of you, supporting 1.07 billion colours and groundbreaking HUAWEI X-True™ technology. Thanks to its Intelligent Light-Sensitive Display, the screens deliver consistent viewing experience, whatever the occasion is. The interior screen's anti-reflection layer keeps the view clear, even under direct sunlight.

Double Down on Something New
Swipe on screen to create a Horizontal Split-Screen, and start multi-tasking away — for instance, attending a meeting on top, while taking notes below.
Split the screen into left and right panes to double your efficiency, and even drag and drop images between the two windows.
Save your Split-Screen Combo, with just one touch, so your favourite apps will both show up in a moment's notice. You can also switch between vertical and horizontal split-screen modes to suit your needs in one step.

Opens Up as You See Fit
Put your caller on top, and mute the call, invite others, share the screen, or more with the controls in the lower half of the screen.
Just place the phone on a surface and unfold it to your desired angle⁠, then start capturing those precious moments.
Unfold your phone in Flex-Stop Mode and double it up as a portable electronic gadget, with access to the weather, time, and more just a touch away.

Stands Up, Unfolds Flat
The new-gen multi-dimensional hinge is slim and shows off state-of-the-art materials, for reliable, durable use in the long haul. With the help of dual-track wing-shaped hinge, HUAWEI Mate X3 boasts a sturdy body when folded⁠19. Better yet, the high-precision cam-drive system, which makes flex-stop possible, is a thrill to unfold as well.

Wet Screen? Scroll On!
While enduring splashes with its IPX8 rating⁠, HUAWEI Mate X3 can even respond to your touches when the screen is wet — which comes especially handy in a drizzly day.

Durable from the Inside-Out
The multi-layered interior screen⁠4, including a layer of non-Newtonian fluid materials, is 4x more impact-resistant, making it the industry-first foldable display to pass the Switzerland's five-star SGS impact-resistance certification.

Kunlun Glass, Solid as Ever
The durable Kunlun Glass exterior screen is 10x more drop-resistant⁠, which has obtained a five-star drop-resistance certification from Switzerland's SGS.

Lasts Longer, When You
Need It the Most
The phone can keep going for much longer with its 4800 mAh large battery⁠ and bounce back even faster via 66 W wired⁠ or 50 W wireless HUAWEI SuperCharge. 7.5 W Wireless Reverse Charging allows you to charge your other devices when you're in a bind⁠. Low-Battery Emergency Mode will kick in when the battery level drops to 1%, giving you enough power for 12 minutes of calling, or three hours of standby⁠.

Gets Cooler for Both Sides
The new-gen cross-hinge cooling system utilizes a unique flexible conductive layer to shift heat across the dual parts of the screen with a 20% larger heat dissipation area⁠, striking balanced heat dissipation across the hinge. The 1800 W/m·K ultra-high thermally-conductive graphene layer helps the phone keep its cool, even when it's handling a lot.

Ultra Vision XMAGE Camera
HUAWEI Mate X3 packs a 50 MP Ultra Vision Camera, 13 MP Ultra-Wide Angle Camera, and 12 MP Periscope Telephoto Camera, which supports 5x optical zoom⁠, to capture your timeless memories in breathtaking splendour. The fast snapshot algorithm is now faster, to ensure that no moment ever passes you by. Three XMAGE styles — Original, Vivid, and Bright — paint your world in the striking colours that appear in front of you.

Just the Light Touch
HUAWEI Mate X3 comes with an RYYB sensor, which takes in 40% more light⁠, to generate vivid images, even in dimly-lit environments.

Vibrant Colours
The Ultra Vision XMAGE system and XD Fusion Pro True-Chroma Image Engine work in tandem to capture intricately-detailed scenes, chock full of colour and texture.

Detail Beyond the Eyes
The periscope telephoto lens supports a maximum of 5x optical zoom⁠ and 50x digital zoom, and can capture details that naked eyes would miss, of scenes from far away.

Seize the Moment
When it comes to snapshots, timing is everything. With a shorter shutter delay, transient moments can be captured forever.

Ultra-wide View
Squeeze more into the frame with the 120° ultra-wide angle lens⁠, to expand the horizon for immersive viewing, and capture every beautiful glimpse you've witnessed with your eyes in one photo.

Capture a Micro World
Explore micro worlds using the ultra-fine 2.5 cm super macro, with crisp and sharp details, filling your life with unexpected wonders that have passed you by.

Selfies with Rear Cameras
Preview your selfies on the exterior screen, to get the perfect shot each time.

Pro Portrait Studio
A brand-new portrait algorithm is able to bring out authentic facial features, and even reproduces the effects of cosmetics. The spot blurring algorithm blurs out the background in a natural way, so that the subject can stand out from their surroundings.

Time-Lapse in Flex-Stop Mode
See flowers bloom in seconds and clouds dash across the sky, with time-lapse photography. Thanks to Flex-Stop Mode, just whip out your phone, unfold it to your preferred angle⁠, and action.

Groufies in Flex-Stop Mode
Place the phone steady in front of you and your family, without having to hold it up or use a selfie stick, then let freestyle photography come into play!

Low-Angle Shooting in Flex-Stop Mode
Love snapping pics of your pet? Place your phone at a good location and angle, so that it's ready when the moment is right!