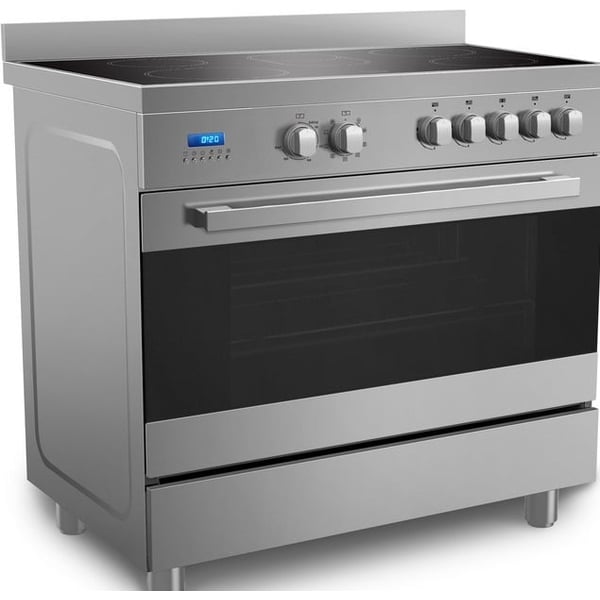 Roll over image to zoom in
Click to expand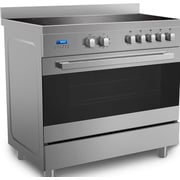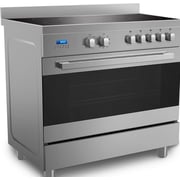 Midea
Midea 5 Ceramic Hobs Cooker VSVC96048
Key Information
No of Burners/Hobs:

5

Color:

Stainless Steel

Works using electrical energy

Energy input:

Electric

Built In / Free Standing:

Free Standing

Dimensions (H x W x D):

900 x 600 x 850 mm
Details
Ceramic cooker ,5 Ceramic Hobs, Schott Glass, lectric Oven & Grill, Double Convection fan, Multifunction oven, Stainless Steel,Close Door Grilling
If you prefer cookers with ceramic tops, the 90×60 cm Vesta Ceramic cooking range VSVC96048 is ideal for you. With 5 ceramic hobs of different sizes and heat intensity, a rotisserie grill with a multi-function electric oven, a digital timer & schott glass, it'll turn cooking into your new favorite hobby.
Always in line with the latest technology and design trends in the market, all Midea appliances combine ease-of-use and innovation with a sleek and stylish exterior.
Midea cookers are equipped with warning lamps that track temperature levels when the cooking process has ended and the cooktop controls have been turned off. The lamps will remain illuminated until the temperature has dropped to a safe level.
In an effort to maximize safety and minimize burn risks and accidents, Midea's cooking range features secure triple glass doors. The reflective inner glass is designed to keep the heat in, while the outer glass ensures the surface temperature is always kept as low as possible.
The rotisserie feature works in sync with the grill technology to cook various cuts of meat, maintaining an ideal cooking temperature to roast the flesh while allowing the outer skin to brown to perfection.