Philips Handheld Garment Steamer GC36036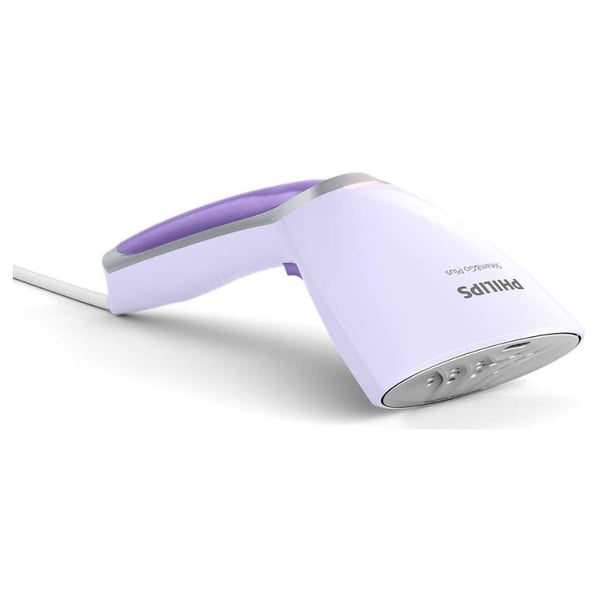 Roll over image to zoom in
Click to expand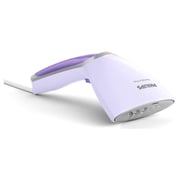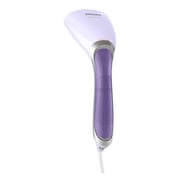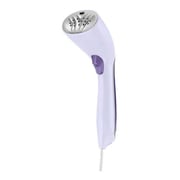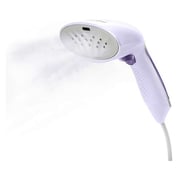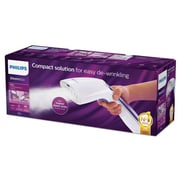 Key Information
Power Supply:

220-240 Volts

It is the bottom or downside of the iron

Soleplate:

Garment Steamer

Color:

Violet

Type:

Garment Steamer

Water Tank Capacity:

70 ml

Steam Output:

Up to 22 g/min

Higher the wattage, the quicker and hotter the iron gets

Power Consumption:

1200 Watts

Power Cord Length:

2.5 m
Details
Easier steaming with SmartFlow heated plate. Use vertically or horizontally on difficult to iron areas and to refresh clothing no burns guaranteed. Lightweight and compact design makes it easy to use anytime, anywhere. Just steam and go!
Vertical and horizontal steaming for more convenience
Steam vertically for quick de-wrinkling and to refresh hanging clothes without an ironing board. Steam horizontally to get perfect results on difficult-to-iron areas, like cuffs and collars. In either position, powerful continuous steam provides great results.
SmartFlow heated plate for better steaming results
Thanks to SmartFlow technology, the steam plate is heated up to an optimal temperature, safe for all fabrics, and prevents wet spots. The heated steam plate helps to press the fabric while steaming horizontally and provides even better steaming results*.
Automatic continuous steam for easy de-wrinkling
An electric pump automatically provides continuous steam for easy and quick de-wrinkling.
Brush accessory for thicker fabrics
The brush attachment opens the fabric fibres and enables better steam penetration. It is especially good for thicker garments like jackets and coats. It can also help to remove dirt and pills.
Safe on all ironable fabrics, no burns guaranteed
The steamer is safe to use on all ironable fabrics and garments. The steam plate can be safely pressed against any clothing with no risk of burning – a great solution for delicate fabrics, like silk.
Using a clothes steamer on hanging garments eliminates the need for an ironing board, so de-wrinkling is easy and hassle free.
Compact design for convenient use, storage and travel
The handheld garment steamer is ergonomically designed to be light, compact and comfortable to use. Just press the trigger and watch wrinkles and creases disappear.
Detachable water tank for easier filling
The water tank detaches for easy filling under the tap.
Continuous steam removes odours and kills 99.9%* of bacteria
Hot steam refreshes your clothes and kills up to 99.9% of bacteria*. Less-frequent washing and dry cleaning saves time and money, and helps clothes last longer.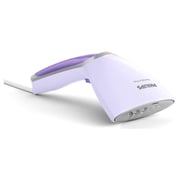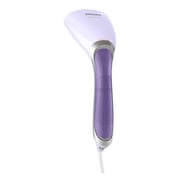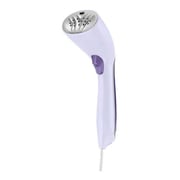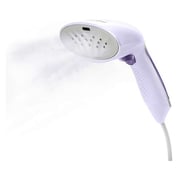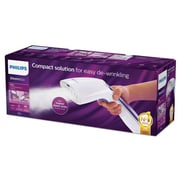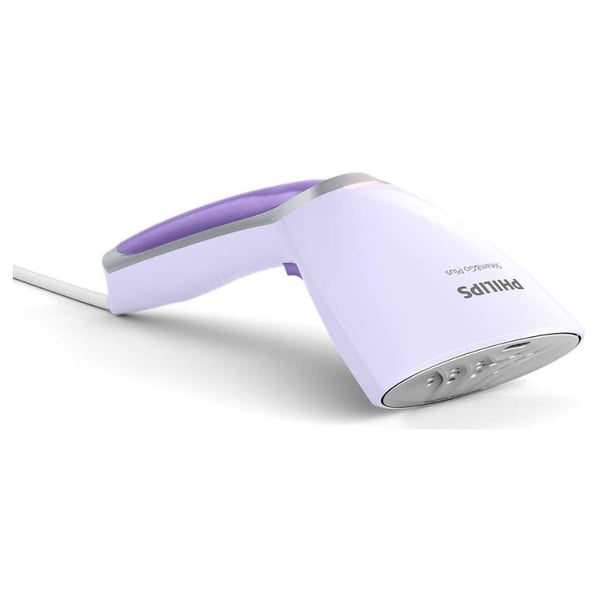 Product Overview
Overview