Samsung Split Air Conditioner 2 Ton AR24TVFZFWKNQT
Roll over image to zoom in
Click to expand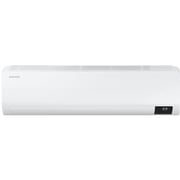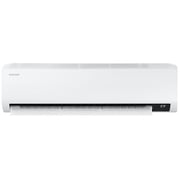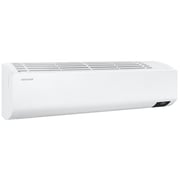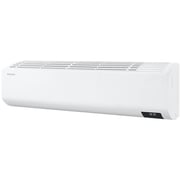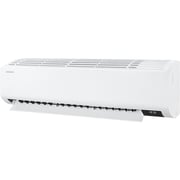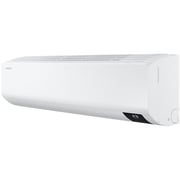 Samsung
Samsung Split Air Conditioner 2 Ton AR24TVFZFWKNQT
FREE Shipping over BHD 10 from seller
Secure Transaction
Key Information
Tonnage:

2 Ton

Power Consumption:

1170 Watts

Color:

White

It is level of noise produced by Air Conditioners (Lower the value, lesser will be the noise)

Noise Level:

45 / 29‎ dBA

Separate outdoor & indoor units

Type:

Split

Works well for big offices and produces lesser noise

Compressor Type:

Rotary

Dimensions (H x W x D): Gross Dimension (Indoor) : 1115 x 290 x 375‎ mm
Net Dimension (Outdoor) :880 x 638 x 310‎ mm

Higher the Star Rating, better the AC will work according to energy efficiency

Star Rating:

6 Star
Details
Fast Cooling
Cool rooms quickly from corner to corner, so you're always comfortable. Digital Inverter Boost technology cools the air 43% faster*. Its advanced design also has a 15% larger fan, 18% wider inlet and a 31% wider blade. So cool air is dispersed farther and wider**, reaching up to 15 meters.
Digital Inverter Boost
Save money every day with highly energy-efficient Digital Inverter Boost technology. It maintains the desired temperature with less fluctuation. It also has neodymium magnets and a Twin Tube Muffler, so it works efficiently, quietly and lasts much longer. And it reduces energy usage by up to 73%
Auto Clean
When the air conditioner is turned off the Auto Clean function automatically runs a fan to remove dust and moisture in the heat exchanger. So it stays clean and dry, which prevents the growth of bacteria and mildew.
Easy Filter Plus
Keep your air conditioner working efficiently with less effort. The Easy Filter Plus is located outside, on the top, so it can easily be taken out and cleaned. Its dense mesh keeps the Heat Exchanger clean and an anti-bacterial coating helps protect you against dangerous airborne contaminants*.
DuraFin™ Plus
Stay comfortably cool for much longer. The Ocean Fin is made of corrosion-resistant material to protect the condenser from rusting, which helps to maintain the optimal performance of the Heat Exchanger. Its superb corrosion-resistance was proven using the Salt Spray Test (SST) for 480 hours*.
Triple Protector Plus
Enjoy a long-lasting performance in challenging environments. Triple Protector Plus technology prevents damage from power surges and fluctuating electrical currents, without a separate voltage stabilizer*. Its anti-corrosion coating also protects the condenser and cabinet in harsh conditions.
Helps the environment, inside and outside
Good refrigerants offer comfort cooling and are essential to lower the impact on the environment. Samsung uses green refrigerants R32 & R410 to protect the ozone layer and reduce global warming.
ECO Mode
Save energy, but still stay cool. ECO mode uses less compressor capacity compared to Normal mode, which reduces energy consumption*. It lets you cool more efficiently when it's not too hot outside or just save energy and money at any time, so you don't have to worry about the electricity bills.
Good Sleep
Good Sleep mode creates the desirable climate for a good night's sleep. With its temperature control, it keeps you comfortable, so you fall asleep fast, sleep deeply, and wake up refreshed.