Samsung Upright Refrigerator 390 Litres RR39M73107F
Roll over image to zoom in
Click to expand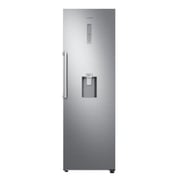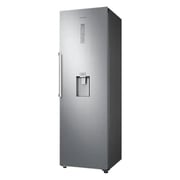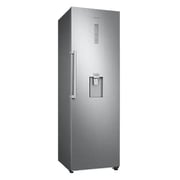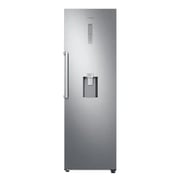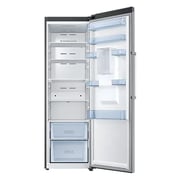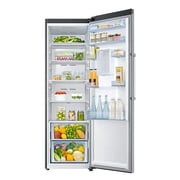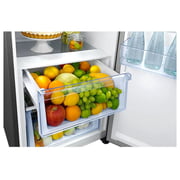 Key Information
Color:

Silver

Number of Doors:

1

Type:

Upright Refrigerator

Gross Capacity:

390 Litres

Dimensions (H x W x D):

1853 x 595 x 694 mm
Details
Samsung Upright Refrigerator 390 Litres RR39M73107F
Large Capacity In Cabinet Fit
Has a large capacity, in a Cabinet Fit design that will fit harmoniously into your existing kitchen. There's plenty of room to store your weekly grocery shopping, and it's much easier to keep everything neatly and efficiently organized, so you can quickly find and take out the things you need.
The No Frost technology enhances the circulation of air to maintain a constant temperature in every corner of the refrigerator, which prevents the build-up of frost and ice. It also reaches the target temperature much faster, increases the cooling system's durability, and avoids wasting power on defrosting.
The All-around Cooling system continually monitors any temperature fluctuation and cools the fridge evenly from corner to corner. Cold air is blown out through multiple vents on every shelf level to create a multi-directional airflow, so it maintains a constant temperature and food stays fresh longer.
Power Cool and Power Freeze
Delivers a rapid cooling performance to chill beverages and create ice. At the touch of a button, Power Cool blows intensely cold air into the fridge, so food and drinks are quickly chilled. And Power Freeze is great for freezing or firming up frozen food, like ice cream, and making more ice.
A Flat & Cabinet Fit design creates a completely harmonious look that upgrades your whole kitchen. It fits seamlessly with the surface of your existing furniture, and it's flat front doesn't stick out, so you can freely open the door and use the drawers without being obstructed by the side wall.
Reaching into your fridge often means navigating an obstacle course of items, but the Slide-in Shelf simply slides in and out. You can efficiently store, organize and access your food – quickly and easily find and reach things at the back and in every corner, with no "dead space".
Humidity Control Vegetable Box
The Humidity Control Vegetable Box keeps even more fruits and vegetables fresh longer, especially since it's large enough to store bulky items. It continually adjusts the moisture level to maintain the optimal humidity by automatically opening and closing a vent to hold in or release moisture.