Smart VfitSport Fitness Tracker – Black
Roll over image to zoom in
Click to expand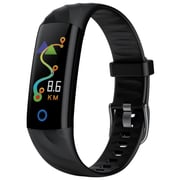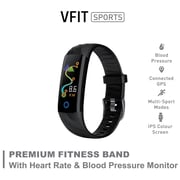 Smart
Smart VfitSport Fitness Tracker – Black
FREE Shipping over BHD 10 from seller
Secure Transaction
Key Information
Color:

Black

Display Type:

IPS Color Screen

Used for monitoring and tracking fitness related metrics such as distance walked or run, calorie consumption, and in some cases heartbeat and quality of sleep

Type:

Fitness Tracker

Bluetooth Version:

4.2

Capable of upgrading to future app versions and can be connected to related products

Compatible Products:

Android 4.4 & Above, iOS7.1 & Above

Battery life:

5-7 Days
Details
Keep track of your heart rate whenever you jog or cycle to know if your workout sessions are effective or not. Alter your exercise routine depending on your heart rate to make the most of all your efforts. It's advised that you wear this Vfit Active can detect your pulse more accurately.
If walking is your physical activity of choice, you can keep track of the number of steps you take each day with this Vfit Active. This way, not only will you know how many steps you've taken, but how many more you need to take to meet your daily target.
Whenever someone messages you on WhatsApp, this Vfit Active's screen will display 'WhatsApp with message and sender name' to notify you.
If you're trying to shed a few pounds, it's essential that you keep track of the time you spend running, the number of steps you take and the amount of calories you burn. With this Vfit Active, you can do exactly that.
Apart from the advanced fitness-tracking features that this Vfit Active offers, it also tells you the time and date, serving the basic purpose of a wristband.
This Vfit Active maintains records on the amount of calories you burn by the day. Now, you can set fitness goals that are customized to your physique to stay in shape.
Incoming Call Notification
You don't need to reach for your pocket every time you want to find out who's calling you. A quick glance at the screen of this smart band is all it takes to do so. Simply pair this smart band with your smartphone and you're good to go. This smart band supports call notifications with caller ID for users with Android-based phones. For users with iOS-based phones, this smart band will display incoming call notifications as call icons if the number is saved on their smartphone. If not, the smart band's screen displays the entire number.
As this smart band monitors your sleep patterns, you can find out if you got the right amount and kind of sleep. Change the duration for which you sleep based on this smart band's records to lead a healthier lifestyle.
Change the tracks that are on your smartphone's playlist with simple taps on this smart band's screen. The Vfit Active offers easier control over your music.
Things might get tricky if you want to take a family portrait with your smartphone's rear camera. In such situations, simply set your smartphone on a leveled surface at the right angle and use your smart band for the perfect click. Now, you can ensure that all your loved ones get into the frame.
A flick of the wrist is all it takes to know if you received a message and who it is that messaged you.
Facebook Messenger Notification
People are usually very eager when it comes to keeping track of their Facebook Messenger notifications. Thanks to this smart band, you don't have to remove your phone from your pocket each time you want to know if you received a notification or not. You will be notified as and when you receive any FB Messenger notification.