Sony 3.1 Channel Sound Bar HTA3000
Roll over image to zoom in
Click to expand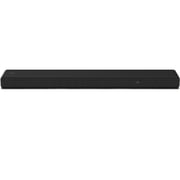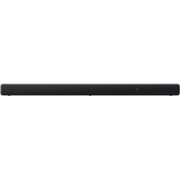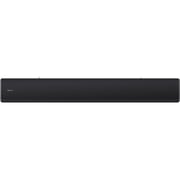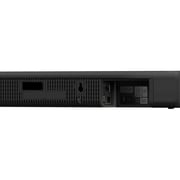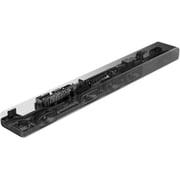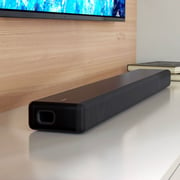 Sony
Sony 3.1 Channel Sound Bar HTA3000
Key Information
Type:

Sound Bar

Audio Output:

250 Watts

2.1,3.1,5.1,7.1 channel indicates (the number of speakers + Amplifier) which means number of speakers and Amplifier that can be connected with the home theater

Number of Channels:

3.1 ch

HDMI:

Yes

Color:

Black
Details
The HT-A3000 immerses you in authentic surround sound with a center speaker for clear dialogue and a built-in dual subwoofer for impressive power. With optional rear speakers, it supports 360 Spatial Sound Mapping, so you can lose yourself in your favorite movies, TV shows and music.
360 Spatial Sound that adapts to your environment
With optional compatible rear speakers
With optional rear speakers added, 360 Spatial Sound Mapping technology creates a sound field optimized for your unique space enveloping you in sound from multiple phantom speakers. And with and a wide listening area, everyone gets the same sound experience.

Innovative technology for Sound Field Optimization
Calibrate sound to your space
There's no need to precisely place the optional speakers. The soundbar with built-in microphones does it all for you, intelligently measuring the position of each speaker and optimizing sound to your room. With Sound Field Optimization, the HT-A3000 can be calibrated to your unique room environment. Even if you move the soundbar to another room, you can use the calibration to optimize sound to the new space.

Immersive surround sound from a soundbar
The HT-A3000 3.1ch soundbar has three front speakers including a center speaker designed for clear dialogue, and a built-in dual subwoofer for deep bass. With Vertical Surround Engine and S-Force PRO Front Surround technology, the sound comes from all around you, maximizing the effects of Dolby Atmos and DTS:X.

Experience sound from above
Thanks to Sony's virtual surround technology, the soundbar can position sound in vertical space – so you can experience 3D audio without the need for in-ceiling or up-firing speakers. As well as Dolby Atmos and DTS:X, Vertical Surround Engine lends a more realistic, multi-dimensional sound to other formats too.

Surround made simple
Using front speakers only, Sony's unique digital sound field processing technology virtually reproduces the surround sound field, with audio coming at you from both sides. You can enjoy rich, cinematic surround sound without cluttering your living space.

So immersive. So real.
With the HT-A3000, music comes to life. 360 Reality Audio puts you in the middle of the concert, studio session, or whatever you're listening to, for a totally immersive experience.

Sound from advanced speakers and a subwoofer
Powerful speakers – three front speakers for surround and a built-in dual subwoofer for rumbling bass – work together to deliver clear, wide-ranging sound throughout your room.

Center speaker for clear dialogue
A dedicated center speaker ensures that voice sounds can be clearly heard, whether it's quick-fire dialogue in your favorite TV show or whispered lines in a movie. It's great for music too, ensuring a richly detailed listening experience.

Built-in dual subwoofer for deep bass sound
The soundbar has a powerful built-in dual subwoofer in the center – so you can enjoy deep bass sound with minimal equipment cluttering up your living space.

X-Balanced Speaker Unit
The built-in dual subwoofer and front speakers feature an X-Balanced Speaker Unit. The unique rectangular shape of these speakers maximizes the diaphragm area for more punchy bass. It also reduces driver excursion while maintaining sound pressure, resulting in less distortion and greater vocal clarity.

Clearer voice
Deeper bass produces more movement from the speaker diaphragm, and because a full-range diaphragm often needs to reproduce higher frequencies simultaneously, phase modulation distortion can occur. Sony has developed unique signal processing technology to compensate for this effect, resulting in crisp, localized dialogue and vocals.

Extended bass
It takes a lot of power to accurately reproduce low bass frequencies and there's often a risk of distortion (A). To combat this, the soundbar uses Sony's unique signal processing technology to deliver dynamic extended bass, at any volume level (B).

Upscale your digital music in real time
Upscale your compressed digital music files in real time. Edge-AI (Artificial Intelligence) uses DSEE Extreme (Digital Sound Enhancement Engine) technology to dynamically recognize instrumentation, musical genres, and individual elements of songs—like vocals and interludes—and restores the high-end range that compression takes away. The result is a richer and more complete listening experience.

Immerse yourself with an upgrade—wireless subwoofers and rear speakers
For enhanced listening, you have options: Our subwoofers (SA-SW3 and SA-SW5) and rear speaker sets (SA-RS3S or SA-RS5) are designed to expand your listening experience—just power them on and they pair automatically with your soundbar.

Perfect for BRAVIA XR TVs
Paired with BRAVIA XR TVs, the HT-A3000 brings you an immersive audio-visual experience with our best picture and sound quality. It's the perfect soundbar for BRAVIA XR TVs.

Even more immersion with BRAVIA Acoustic Center Sync
Connect the HT-A3000 to a BRAVIA XR TV with Acoustic Center Sync and both work together as your home theater system's center speaker. The sound syncs up and you get directional accuracy for the dialogue, so it's like you're right in the scene.

Sound perfectly matches action
With Acoustic Center Sync, you'll hear dialogue from exactly where the character is standing in the scene. Action and sound are precisely aligned so your viewing becomes much more immersive.

Effortless control with BRAVIA TVs
The soundbar system settings all appear automatically in the BRAVIA Quick Settings menu, thanks to an integrated UI, so you can easily control the sound modes, sound field, and volume.

Soundbar position
If you have a BRAVIA TV with a multi-position stand, you can change the position of the TV stand and fit the HT-A3000 discreetly beneath the TV for a clean look.

Omnidirectional Block Design
The HT-A3000 and optional speakers have been designed under a common Omnidirectional Block concept. Its sophisticated rounded edges represent a single solid block providing wide-spreading sound. The combination of rich material textures emphasises an affinity with any living room environment.

Stream music from your favorite services
Enjoy all the music you love. The HT-A3000 has built-in support for Spotify Connect and other music services via Bluetooth, Wi-Fi streaming, Chromecast built-in or Apple AirPlay 2.

Even more Voice control with BRAVIA Acoustic Center Sync
The soundbar is compatible with Google Assistant enabled devices with Chromecast built-in enabled devices with Chromecast built-in, and Amazon Alexa enabled devices.

Effortless and atmospheric sound
Simply press the Sound Field button on your remote to enjoy atmospheric sound that puts you in the center of the action. When listening to stereo music, just turn off Sound Field for pure speaker audio.

Voice Mode
Whether it's the morning news or season finale, the mode tailors sound settings to accentuate speech so you won't miss a word.

Night mode
Watching a movie at night? This function optimizes the sound balance so you can hear everything clearly even at low volume levels.

Set up in seconds
Simply plug in the soundbar, connect to your TV using the HDMI eARC connection and power on. With USB and optical in, as well as HDMI out (eARC) and S-CENTER OUT for compatible BRAVIA XR models, you have all the connections you need to enjoy a breathtaking surround sound experience.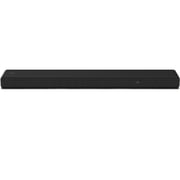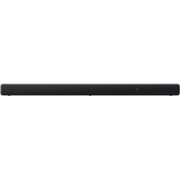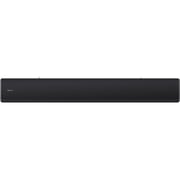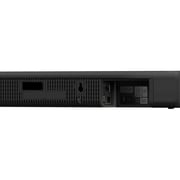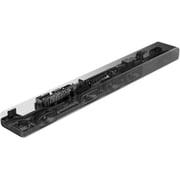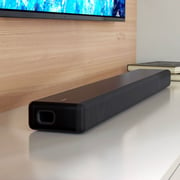 Product Overview
Overview