Tellur Smart WiFi Aroma Diffuser TLL331261
Roll over image to zoom in
Click to expand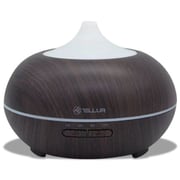 Tellur
Tellur Smart WiFi Aroma Diffuser TLL331261
Key Information
Type:

Diffuser

Power Supply:

100-240 Volts

More power will help you faster purification of air inside the room

Power Consumption:

14 Watts

Suggested room size the air purifier can optimize its performance

Capacity:

300 ml

Color:

Brown
Details
The smart aroma diffuser uses ultrasonic waves to create a flavored mist that will aromatize your home. Just fill it with clean water, mix in your favorite aromatherapy essential oils and let the aroma diffuser do its magic.
Remote control
The WiFi Smart Aroma Diffuser can be controlled remotely via Tellur Smart app and voice activated through Amazon Alexa or Google Assistant.

Smart Functions
Enjoy the smart functions of your Aroma Diffuser through Tellur Smart App – customize the diffuser's vapor level, schedule its running times or set smart scenarios so the diffuser starts running, for example, when the lights in your living room power on.

LED Lighting & Protection
The WiFi Smart Aroma Diffuser sets the mood with its RGB LED lighting, letting you choose your favorite color from Tellur Smart App. The built-in protection function automatically shuts down the device when the water is running low.

CONNECTIVITY
The WiFi Smart Aroma Diffuser is only compatible with 2.4GHz WiFi frequencies.

Automation & Smart Scenarios
An automation scenario enables your Smart Aroma Diffuser to function based on specific conditions. For example, you can set the diffuser to automatically turn on when the app detects that the outside air is too dry. A smart scenario will trigger multiple smart products and tell them how to behave with just one command. A "Time to Relax" scenario can: Turn on aroma diffuser, Set aroma diffuser to Large, Turn on living room light, Set living room light to 50% and Set living room light to blue.